Known on YouTube as DeceptiBonk or Bonkers, is a 22 year old game commentator and artist. She is famous for her amazing art skills and big heart. She was a member of the now-disbanded famous Minecraft group, Team Crafted. Currently, her gaming channel DeceptiBonk has 52k subscribers with a view count of 665k, while her art channel BonkersBonker has 62k subscribers with a view count of 827k.
Her gaming channel mainly consists of playthroughs of minecraft and other games, and her art channel consists of fanart, personal art and miscellaneous. She currently resides in Latvia.  
Bonkers seems to be close friends with setosorcerer, BigBadManPig and GoldSolace as they have been featured in her art channel with the title "send them kisses from me c:". In her gaming channel, Protostar, Guruith, RitzPlays, setosorcerer and Tasty were featured with the title "My friends c:"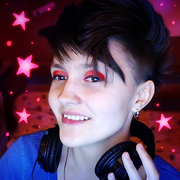 SkyDoesMinecraft is seen to care about Bonks as he had told her "If you need to talk, please message me on skype. Don't think you're alone okay? It pains me to see you like this." over twitter when Bonks was feeling down.